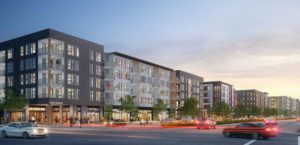 SAN JOSE, Calif., July 11, 2017 — Western National Group has purchased a 6.5-acre parcel of land from Berryessa Properties, LLC — owners of the San Jose Flea Market, a family-run business that remains one of the largest outdoor markets of its kind in the nation — for multifamily residential and retail space. Western National Group plans to develop up to 560 multifamily units and approximately 37,000 sq. ft. of ground-floor retail space in the fifth phase at Market Park San Jose (www.marketparksanjose.com), a 120-acre, mixed-use, transit-oriented community adjacent to the Berryessa BART station, scheduled to open by the end of 2017.
With the proceeds from the sale of the current phase together with a previous transaction with KB Home to build 162 city-style townhomes on 5.6 acres of land, San Jose Flea Market will contribute $5,000,000 to the City of San Jose Dept. of Parks, Recreation and Neighborhood Services to help pay for two city parks totaling approximately 7 acres, plus an additional $6,000,000 for utility infrastructure improvements in Market Park's North Village.
The land sale transactions have been brokered by Ralph Borelli and Chris Anderson of Borelli Investment Company, a commercial real estate firm that has served the Santa Clara Valley for 62 years.
"As Silicon Valley continues to grow, there's an ever-increasing need for places for people to live," said Ralph N. Borelli, chairman of Borelli Investment Company. "Market Park San Jose, located immediately adjacent to the soon-to-open Berryessa BART station, is ideally situated for families and individuals — whether they plan to work in downtown San Jose, at one of the Valley's many high-technology firms, or in Oakland or even San Francisco, which will be only about an hour away via convenient BART."
Modern one-, two- and three-bedroom apartments will be offered within a multi-building, mid-rise complex — with retail stores and restaurants occupying street-level spaces. The apartments will feature efficient design layouts highlighted by attractive accents and upscale finishes, in a location that's ideal for those with active lifestyles.
Read the full story at The Registry: Western National Group Buys 6.5 Acres at the San Jose Flea Market for $35MM