Pizza My Heart will soon be serving its award-winning, hand-tossed pizzas, snacks, salads, desserts, and drinks from its 26th location in the Market Park retail center — which happens to be in the heart of one of San Jose's most exciting mixed-use communities, immediately adjacent to the Berryessa BART station.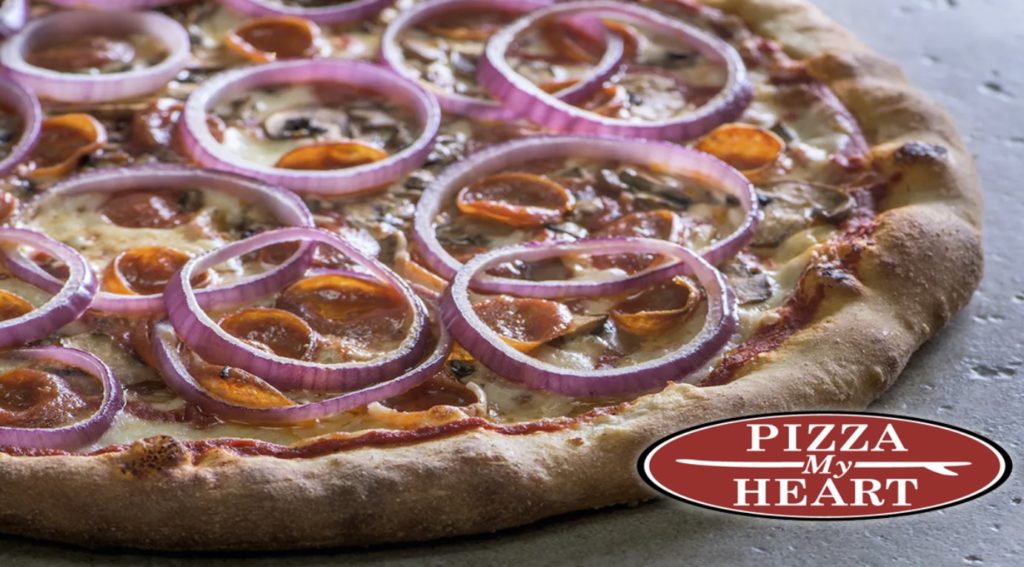 The much loved, family-owned pizza chain was founded in Capitola in 1981. Dedicated to great food, exceptional service and fun, Pizza My Heart has remained true to its goal of serving the best pizza in California to its loyal customers.
The new 1,650 sq. ft. store will enable customers to dine in or take their food out onto a patio area next to the restaurant. The restaurant will be located in Suite 10 at 1477 Berryessa Road in San Jose. The procuring broker for the transaction was Greg Berry, director at Cushman Wakefield in San Jose.
---

Tenth Retailer to Sign at Market Park—Only 3 Store Spaces Remain
Pizza My Heart is the tenth different retailer to lease at the 101,000 sq. ft. Safeway-anchored shopping center — and with one additional lease pending at this time, there are only three units that remain available in the two freestanding retail buildings.
Here's the current line-up of tenants in the shopping center:
Safeway, 65,000 sq. ft. store
Safeway fuel station and convenience market
CVS Pharmacy, 13,100 sq. ft. store
Chase Bank, 4,000 sq. ft. branch
Carbon Health, 2,650 sq. ft. medical clinic
Rosie Nails Spa, 2,375 sq. ft. nail salon and spa
Dunkin', 2,038 sq. ft. store offering premium baked goods and coffee
Pizza My Heart, 1,650 sq. ft. store
Firehouse Subs, 1,500 sq. ft. sandwich shop
SomiSomi, 1,100 sq. ft. Korean-style soft-serve ice cream shop
CoCo, 716 sq. ft. bubble tea and juice store
Discussions are currently underway with a number of other interested retailers. To learn more about the Market Park retail center and view floorplans of the open spaces, download the retail brochure and reach out to the brokerage team right away.

---

San Jose's Largest Transit-Oriented Community
Seamlessly integrated with the Berryessa BART station just across an open-air plaza, 120-acre Market Park is San Jose's largest mixed-use, transit-oriented community. It includes single-family homes, townhomes and apartments; retail and restaurants; office and commercial space — plus neighborhood parks, walking trails and greenbelt areas — creating the ideal community with the perfect work-life balance for busy urban professionals and active families.
Development of Market Park's North Village featuring the retail center is largely complete. Full approval has now been granted to begin development of the impressive South Village. Check out the South Village site plan.
When completed, Market Park San Jose will include:
Up to 4,450 residential units (1,000 already built in the North Village)
Planned headquarters-class offices and commercial space ranging from 1.5 million sq. ft. to as much as 3.4 million sq. ft. of available space
North Village retail center, plus additional street-level retail and dining throughout
The community entry plaza adjacent to the BART station, neighborhood parks, walking and bicycle trails, and greenbelt areas
BART and VTA bus service, plus a future freeway interchange at Berryessa Road and Highway 101
---

Cash in on the Opportunity
In retail sales, there's no time like the present. And with the spaces at the Market Park shopping center almost gone, you don't have time to lose. To tour the center and view the final remaining spaces, please contact Chris Anderson today.