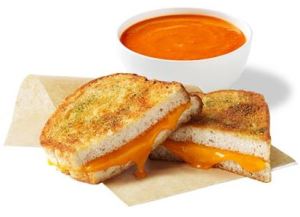 The Melt — a fast-growing chain of gourmet grilled cheese eateries with 16 locations in Northern and Southern California — has leased 1,700 sq. ft. of space at Saich Way Station in Cupertino — a new $10.4 million, 15,600 sq. ft. retail center being developed by Borelli Investment Company. The new restaurant will have seating for 78 guests, both inside and on an outside patio.
Based in San Francisco, The Melt offers a wide variety of grilled cheese sandwiches — ranging from a traditional version made with aged cheddar on artisan white bread to  sandwiches with smoked bacon and macaroni or short rib of beef together with pepper jack, provolone and jalapeños. The Melt also serves a selection of soups, side salads, simple desserts, and drinks —including natural sodas and fruit juice, iced tea, lemonade, milk shakes, and wholesome milk — to complement its all-natural grilled cheese sandwiches.
Saich Way Station broke ground in mid-July on Saich Way in Cupertino, across from the Target store and a block down Stevens Creek Boulevard from one of the busiest Whole Foods Market stores in the entire chain. Cupertino represents an ideal location for The Melt with the community's upscale demographics that include 70% of the residents with college degrees and average household incomes that are in excess of $135,000. Employers such as Apple and other technology companies are also expected to supply plenty of diners looking for something different and healthier than the standard burger for lunch or dinner.
In addition to The Melt, other signed tenants at Saich Way Center in Cupertino include anchor Vitamin Shoppe, an international health and wellness retailer with more than 600 locations; and Blast 825 Pizza, a fast-casual pizza franchise. There are five or six stores remaining available to lease in sizes from 840 sq. ft. to 3,200 sq. ft.
Cupertino has one of the lowest retail vacancies in Silicon Valley at less than 3%, so Borelli Investment Company expects the available shops to lease quickly. General contractor SiliconX Construction anticipates completion of the center's shell in January 2015, with tenant improvements and store openings taking place throughout the first quarter.

Saich Way Station features a contemporary design with a low roofline, awnings and attractive, modern exterior lighting. The center meets Cupertino's goal of being pedestrian- and bicycle-friendly, with broad walkways, a shaded outdoor sitting area, bicycle racks, and orchard-sized shade trees. Ample parking will also be available in large lots at the door.
Heritage Bank supplied a $6.4 million construction loan that was needed to begin the project. The architect is FCGA Architecture. HMH Engineers is overseeing all civil engineering work. Interested retailers should contact Randol Mackley, senior vice president of SRS Real Estate Partners, at (408) 216-2316, or email randol.mackley@srsre.com.
For additional information about Saich Way Station, please contact Larry Bengiveno, vice president of Borelli Investment Company, at (408) 453-4700, or email larry@borelli.com.