Borelli Investment Company has announced that T-Mobile USA — a national provider of wireless voice, messaging and data services capable of reaching more than 293 million Americans where they live, work and play — has leased 1,750 sq. ft. of space at Saich Way Station in Cupertino. The T-Mobile agreement fills the front building at Saich Way Station, bringing the center to approximately 60% leased.
Borelli Investment Company noted that T-Mobile has continued to see a surge in its number of new subscribers in competing among the "big four" carriers — driven by the value of its plans, the breadth of its coverage and the high reliability of its network. The new store at Saich Way Station puts T-Mobile in the heart of the Cupertino market — with its outstanding demographics, including average household incomes of more than $135,000, and strong retail sales — making it an ideal location to attract new subscribers and sell phones, tablets and other wireless devices.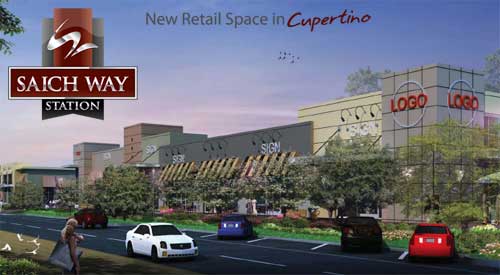 Saich Way Station is being developed by Borelli Investment Company and built by SiliconX Construction. The $10.4 million, 15,650 sq. ft. retail center is located across Saich Way from the Cupertino Target store and just down Stevens Creek Boulevard from Whole Foods Market. The center features a modern façade with clean lines, plenty of glass, attractive awnings, and eye-catching logo positions. It will benefit from the more than 30,000 vehicles that travel up and down Stevens Creek Boulevard daily.
With the shell of Saich Way Station scheduled to be completed in May, anchor tenant Vitamin Shoppe — a health and wellness retailer with more than 700 locations — is expected to move into its 3,500 sq. ft. store as quickly as it can complete the tenant improvements. Vitamin Shoppe will be followed in rapid order by Blast 825° Pizza, which will occupy 2,800 sq. ft. of space, and The Melt — a fast-growing chain of gourmet grilled cheese eateries — which will open a 1,750 sq. ft. store.
T-Mobile expects to be in its new space in July. Only four spaces remain to be leased, ranging in size from 1,025 to 1,750 sq. ft., with strong interest from a mix of national retailers, local franchises, financial services firms, and other small businesses.
In keeping with Cupertino's mid-town development plan, the retail center will be accommodating to pedestrians and bicyclists — offering broad walkways, an outdoor sitting area, bicycle racks, and orchard-sized shade trees. Ample parking will also be available.
SiliconX Construction serves as the project's general contractor for Saich Way Station.  The $6.4 million construction loan was provided by Heritage Bank. And Randol Mackley of SRS Real Estate Partners is the retail broker. Mackley can be reached at (408) 216-2316, or via email at randol.mackley@srsre.com.
For additional information about Saich Way Station, please contact Larry Bengiveno, vice president of Borelli Investment Company, at (408) 453-4700, or email larry@borelli.com.
About Borelli Investment Company
Now in its 60th year in business, Borelli Investment Company is one of the oldest commercial real estate firms serving the Santa Clara Valley, Central Valley and Sacramento areas. The company provides a full range of commercial real estate services — from development and asset management to land sales and property management services — as well as general contracting through its SiliconX Construction affiliate. More information about Borelli Investment Company's services may be obtained by calling (408) 453-4700 or visiting borellli.com.
About SiliconX Construction
SiliconX Construction is a full-service general contractor that provides a wide array of value-focused construction services to clients throughout Northern California. Specialties include ground-up construction, major renovations, tenant improvements, and facilities maintenance. For more information, call Tony Gonzales at (408) 418-0099, or e-mail tom@borelli.com.  Or visit siliconxconstruction.com.