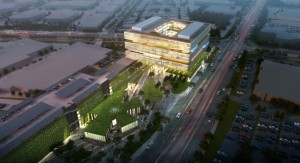 San Jose's City Council has approved a trio of agreements with Samsung Semiconductor Inc. to build a 680,000-square-foot research and development campus and new North American headquarters in North San Jose.
The project is expected to involve a capital investment of no less than $200 million, assuming an estimated per square foot construction cost of about $300 and excluding the value of business equipment required to outfit the facility.
The campus, which is proposed to include two, 10-story towers, is expected to house 2,000 workers. Samsung has an existing 300,000-square-foot complex at the site, 3655 N. First St., where 370 people already work.
Read the full story at The Registry.