It's been a long time coming. After many years under consideration and a number more in planning, development and construction, Safeway held a ribbon-cutting ceremony for its newest store in Northern California on April 28th.

The 65,000 sq. ft. state-of-the-art grocery store anchors a 101,000 sq. ft. retail center at Market Park San Jose — a $3 billion, 120-acre, mixed-use community developed by The Flea Market Inc. with support from real estate firm Borelli Investment Company, immediately adjacent to the Berryessa BART station.
At a ribbon-cutting ceremony, Karl Schroeder, President of Safeway's Northern California Division, spoke about what turned out to be a 13-year process: from first look at the location in the underserved Berryessa trade area to construction of a world-class store featuring a next-generation design including various Ecommerce initiatives.

Also on hand for the opening among the many dignitaries was local artist, Lila Gemellos, who has painted a series of stunning wall murals on the exterior facades of the Market Park retail buildings — bringing history alive from the early days in the Valley of Heart's Delight.

Capping off the event, Safeway honored Randol Mackley, long-time Senior Vice President at SRS Real Estate Partners, who labored tirelessly over the years to make the new Safeway-anchored retail center a reality. Randol passed away suddenly and unexpectedly in 2017. Safeway is installing a memorial plaque near the store entrance in honor of all he did.

In addition, as it does at every opening, Safeway was pleased to make a generous onation to a local community organization — in this case, $5,000 to the Berryessa Union School District.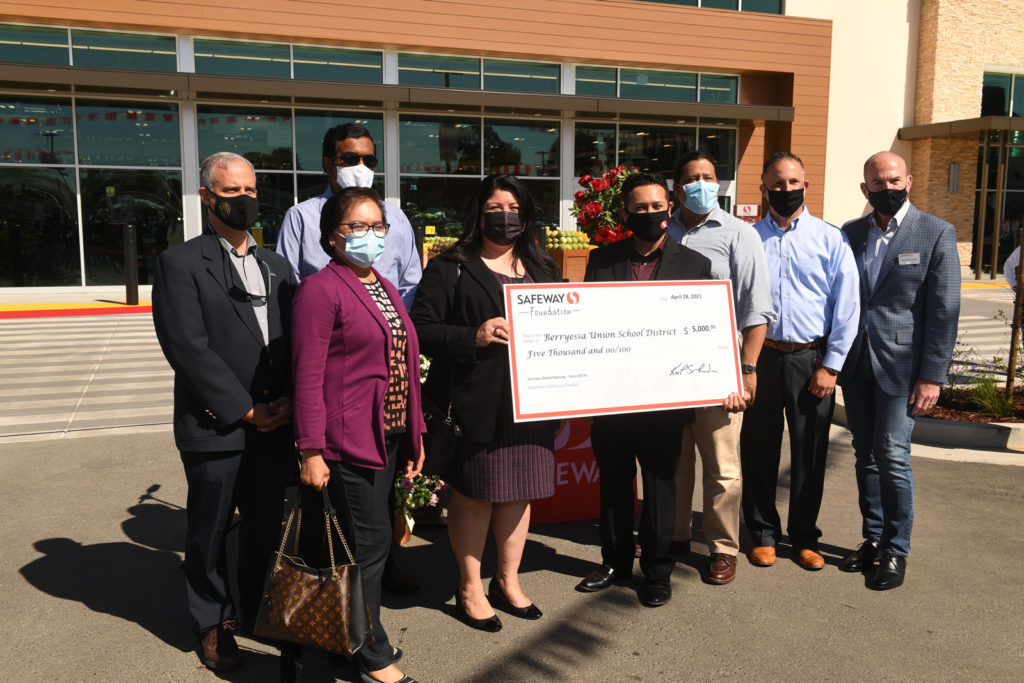 Grand Openings Continuing at Market Park
Other retailers and businesses are also opening at the Market Park Retail Center. These include:
CVS Pharmacy — 13,100 sq. ft. pharmacy, drug store and provider of healthcare services
Carbon Health — 2,650 sq. ft. primary care clinic, designed to provide a hassle-free healthcare experience
Chase — 4,000 sq. ft. bank branch offering a full range of financial services (grand opening scheduled in July)
Dunkin' — 2,038 sq. ft. Next Gen store offering a variety of baked goods, breakfast sandwiches and premium beverages (grand opening TBD)
SomiSomi — 1,100 sq. ft. shop serving up Korean-style soft-serve ice cream treats
CoCo — 716 sq. ft. store for the leading global bubble tea brand offering fresh tea and juice (grand opening TBD)
Leasing activity continues to ramp up for the remaining 11,000 sq. ft. of space in the retail center. Download the retail brochure for floor plans of available units.
Planning Progresses on Market Park South Village
While the retail center at Market Park is open and rapidly leasing up, planning is also proceeding steadily for the sweeping South Village, which will include additional residential, retail and office space — all within an easy stroll of the Berryessa BART station. Review the South Village site plan.
When completed, the Market Park community will include:
Up to 4,450 residential units (1,000 already in place)
Planned headquarters-class offices ranging from 1.5 million sq. ft. to as much as 3.4 million sq. ft. of office space
The Market Park Retail Center, plus additional street-level retail and dining throughout the North and South Villages
Neighborhood parks, a community plaza, walking and bicycle trails, and greenbelt areas
BART and VTA bus service just steps away, plus a future freeway interchange at Berryessa Road and Highway 101.
Retailers, Don't Wait
June 15th is rapidly approaching. Once the state allows businesses to open more fully with fewer limitations, the remaining retail space is likely to go quickly. If you're interested in one of the last remaining units in the Market Park Retail Center, contact Chris Anderson today.
Chris Anderson •  408.453.4700 x134 • BRE License #01438895