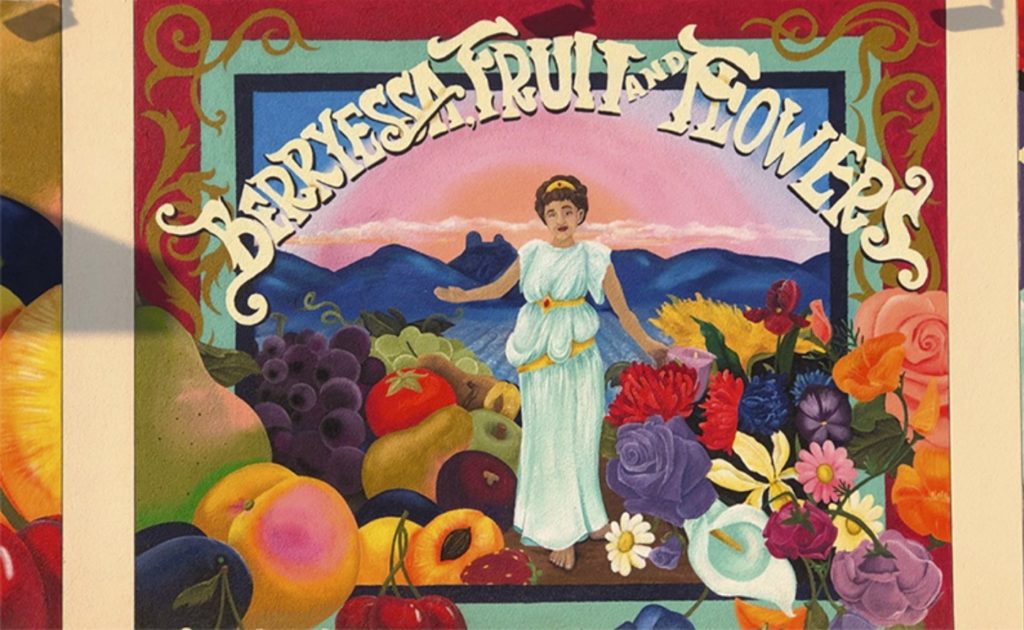 Watch the interview and view more murals!
Even the most attractive, modern shopping centers often have many large empty surfaces —building and boundary walls that safely direct traffic in and out of the center. These contribute to a degree of coldness associated with most retail complexes.
Not at Market Park. San Jose's newest retail center — located in the Berryessa Road neighborhood in North San Jose — is painting a picture of what retail centers can aspire to…with a little extra creativity and imagination.
Large-scale Murals Depict San Jose's Colorful Past
Lila Gemellos, acclaimed San Jose muralist, has created a series of stunningly realistic, larger-than-life murals that hark back to the Santa Clara Valley's rich and colorful heritage — and provide a unique character to the bustling, 101,000 sq. ft. shopping center.
A recent story in the San Jose Mercury News describes the murals that will greet shoppers when they head over to shop, dine or take care of business or personal needs.
"There are images of a Peninsular Railway car making its way up Alum Rock, children playing at Penitencia Creek, fieldworkers drying apricots and a scenic view of an orchard-filled valley from Mount Hamilton Road. There's even a nod to the Bumb family's (Market Park owners) own history, with a box of Berryessa cherries labeled Bumb Family Farms."
So, the next time you need some groceries from Safeway, want to pick up something from CVS or make a deposit at Chase — swing by Market Park San Jose and check out the vibrant murals by Lila Gemellos.
Majority of Market Park Retailers Now Open
As shoppers have returned to physical stores throughout the valley, Market Park's retailers are busily serving customers. Anchor tenant, Safeway, opened its doors in April of this year, and a number of other retailers have followed.
Currently, five stores are welcoming customers — with many more to follow in the coming weeks:
Safeway, 65,000 sq. ft. anchor store, open
CVS Pharmacy, 13,100 sq. ft. store, open
Chase Bank, 4,000 sq. ft. branch, open
Carbon Health, 2,650 sq. ft. medical clinic, open
Safeway fuel station and convenience market, open
Dunkin', 2,038 sq. ft. store serving up fresh-baked goods and beverages
Firehouse Subs, 1,500 sq. ft. fast-casual restaurant
SomiSomi, 1,100 sq. ft. Korean-style soft-serve ice cream shop
CoCo, 716 sq. ft. bubble tea and juice store
Exclusive Categories Still Remain
Although tenants are rapidly snapping up the units within Market Park — with several pending transactions expected to be announced soon — a few choice spaces remain. Among the exclusive categories, some already under discussion with prospective tenants, are all types of restaurants except sub sandwiches, hair salon, optometry or dental offices, veterinarian, tax preparer or CPA firm, cellular or similar retailers, Internet or cable provider, tutoring or coding schools, and more. Download the retail center brochure.
Market Park San Jose is a 120-acre master-planned, transit-oriented community with residential, retail, office, recreational space, and more — all integrated tightly with the Berryessa BART station. When completed, it will include up to 4,450 residential units (1,000 already built), as much as 3.4 million sq. ft. of commercial and office space, the retail center and ground-floor retail space throughout, parks and other community amenities, and more. Check out the South Village site plan.
To schedule your tour of Market Park San Jose, reach out to Chris Anderson today.