Passion investing — putting a percentage of your wealth into something you love — has become highly popular over the past decade or so. The concept is so well accepted that many investment advisors are suggesting that their clients allocate a fixed percentage — perhaps 15 to 20% of their wealth — in this investment category.
What's a passion investment? Typically, it's something you'd spend your money on even if you weren't considering it as an investment, which then grows over time as you recognize the value that's being created by your collection. Here are some of the leading types:
Art
Antiques
Collector cars and motorcycles
Coins, stamps and firearms
Fine wines
Historical collectibles
Jewelry
Sports memorabilia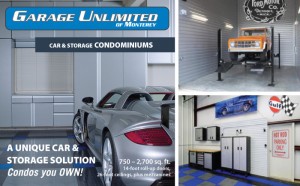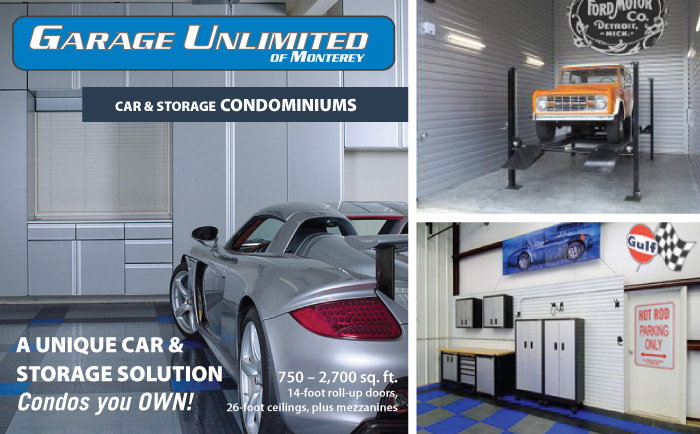 For some, it could even mean buying a small winery and some vineyard acreage to indulge in a passion to produce their own wine. The point is: these are all investments in which you take a great deal of personal pleasure while you watch their value grow over time.
Collector Cars Racing Ahead with 500% Return
One of the fastest moving passion investments lately has been car collections. In a January 2016 report, CNBC's Deborah Nason said, "Classic cars are gaining attention due to their nearly 500% returns over the past decade, outpacing art and wine by more than 100%, as reported by the Knight Frank Luxury Investment Index."
The most valued nameplates include Aston Martins, Ferraris and Porsches, but lately a wider range of cars including American muscle cars and more recent models are showing solid gains for collectors as well.
The rapid appreciation in value has moved cars out of the realm of casual collectibles and into a serious asset class. Just as you wouldn't tuck away a Picasso or Rembrandt in your closet or keep a wine rack full of $10,000 Bordeaux's in your front room, it doesn't make sense to store even a modest collection of classic cars in friends' garages or a dusty warehouse or ministorage space.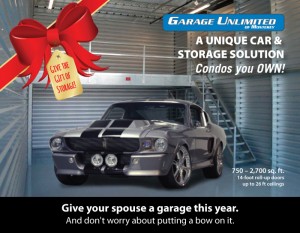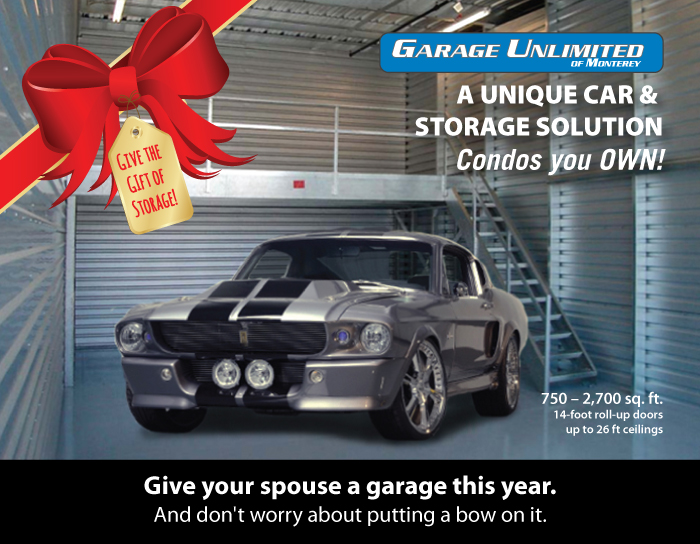 Garage Unlimited of Monterey is a unique facility and car community that provides security-conscious, access-controlled storage and a fun car-driven community just off Hwy 68 near the Monterey Airport.
The stylish facility has a total of 46 car and storage condos ranging from 1,384 to 2,696 sq. ft. — with more than two-thirds of the units already sold months before it opens in early 2017.
The garage condos are ideal for car collectors with any size of collection, RV or boat owners, or anyone who needs additional storage space for personal items such as furniture from a vacation home, recreational equipment, or anything that's been cluttering your home garage — to business storage. Desirable features include:
Ceilings reaching up to 25 feet, with roll-up entrance doors that are 10-12 feet wide by 14 feet high, and a standard walk-in door as well
Mezzanines that many owners are planning to customize into a personal retreat — with a large-screen TV, sofa, wet bar, and more to enjoy their favorite races or sporting events
Cat 6 wiring for Internet and phone service, with optional cable access available
A completely fenced complex with access-controlled entrance gates, abundant lighting, and video cameras covering common areas
All units will have available individually monitored alarms in place
24×7 access with large exterior drive lanes and loading zones
Significant appreciation potential and tax benefits of ownership — so your storage may rise in value along with your car collection!
A very few limited rental storage options available, with three- to five-year terms
Low down payments with up to 90% SBA financing available at very attractive interest rates (on business purchases)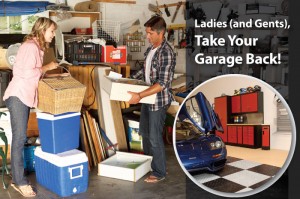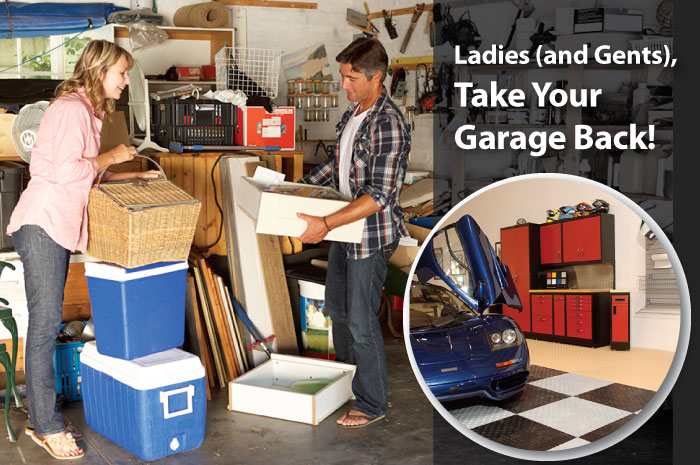 "What makes Garage Unlimited of Monterey such a one-of-a-kind storage option is the fact that owners will be joining a true car community. If cars are a passion investment for you — then this is an opportunity to meet and mingle with others who share a similar passion. Your fellow owners will be people who enjoy owning, working on and admiring incredible cars.
Borelli Investment Company is a developer and is involved with the marketing of Garage Unlimited Monterey.