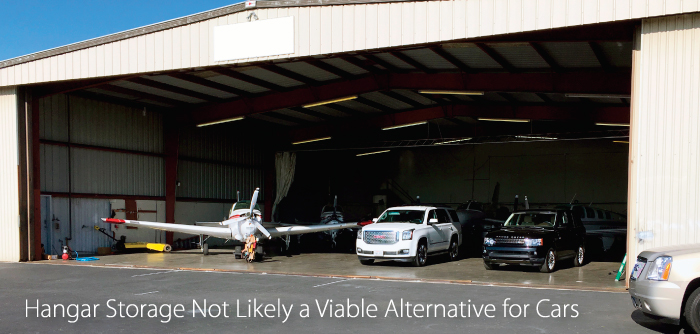 Flying in the Face of a Proposed FAA Directive
Owners searching for places to store vintage and collector cars, race or high-performance track cars, or exotics have explored almost every option. Once you run short of space in your or your friends' garages, and have checked into the nearest self-storage facilities (which really aren't an ideal option in any case), what do you do?
For some, the sky's the limit in their efforts — and that has led them to airport hangar space.
Car Storage at Santa Monica Airport
The general aviation airport in Santa Monica is an excellent example of this. Located just two miles from the sun-drenched Southern California coast — and within easy driving distance of exclusive neighborhoods such as Bel Air, Beverly Hills, Malibu, Manhattan Beach, Pacific Palisades, and of course, Santa Monica itself — the airport attracts people with valuable car collections or who are motorsports enthusiasts.
The airport rents excess hangar space to car owners to store their cars securely and out of the elements. Santa Monica Airport has even made hangar space available to use for anything from corporate events, shows and concerts to movie shoots.
Holding for Clearance in Monterey
Unfortunately, car owners on the Monterey Peninsula may soon have fewer options at federally regulated Monterey Regional Airport. The Federal Aviation Administration (FAA) has proposed a directive that would make it difficult, if not impossible, to get hangar space approved for long-term car storage. Although the policy has not yet been made law, Homeland Security concerns make it likely to pass at some point.
The FAA's primary issue is that hangar owners might see the storage of vehicles and household and business items as a more lucrative opportunity than using hangar space exclusively for aircraft storage. They believe that if aircraft are kept in hangars, they will be better maintained and therefore safer.
So, on the Monterey Peninsula, owners thinking they can find repurposed hangar space in which to store their cars are likely to be disappointed.
Garage Unlimited of Monterey a Down-to-Earth Solution
Garage Unlimited of Monterey is a unique car and storage condo complex, which provides the perfect solution for car collectors, amateur racers or track-driving-day enthusiasts — as well as anyone with significant household or business storage needs.
Located near the Monterey Airport, this facility will be unlike anything you've ever seen.
Offers a total of 46 car and storage units that are going fast — with more than 50% of the units already sold
Square footages of the remaining garage and storage condos range from just over 1,100 sq. ft. to around 1,500 sq. ft.
These are garage condos you can buy, not lease, locking in today's values and low interest rates, and offering the potential for generous appreciation in the future
With ceiling heights of up to 25 ft., every unit includes a mezzanine area that many owners are fixing up as luxurious retreats — with TVs, wet bars and more
Roll-up doors 10-12 feet wide by 14 feet high make moving your vehicles and other stored items in and out simple
The complex has access-controlled entry gates, video security and abundant lighting — plus conveniences such as on-site air, water and an RV dump station
All units will be pre-wired with high-speed Cat 6 Ethernet for Internet and phone service, with Comcast cable access also available
Last Chance at Preconstruction Incentives
In early April, construction will take off on the car and storage condos — with occupancy planned for fall. For now, you still have an opportunity to purchase one of these units and take advantage of pre-construction incentives — which include a $10/sq. ft. tenant improvement (TI) allowance.
Don't be left at the gate. To learn more about Garage Unlimited of Monterey, please contact Ernie Lostrom of Lostrom & Company, at (831) 646-1000, or email ernie@lostrom.com.