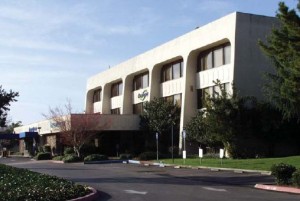 After years as a sleepy office park along Winchester Boulevard near Santana Row, the Golden Pacific Office Center — typically referred to as the Comerica Bank building — is undergoing a major renovation. A new ownership group recently acquired the two-building, low-rise office complex at 1245-1275 South Winchester Blvd., which was built in the mid-1970s.
Plans are being developed to modernize the three-story, 74,000 sq. ft., mission-style office center into smart buildings, which will include a number of energy-saving features, including utilizing solar power, which will include a number of energy efficiency upgrades, including installation of a roof-top solar energy system which is expected to offset the majority of electricity consumption of the building. Over the next 12 months, asset manager, Archers Capital; development manager, Borelli Investment Company; and general contractor, SiliconX Construction, will lead the renovation process with a particular emphasis on enhancing traffic flow and improving visibility.
The update is especially timely because it will address the fast-growing demand for modern office space in Silicon Valley and particularly in West San Jose. The renovation will complement the City of San Jose's planned sweeping redevelopment of Winchester Boulevard from Santana Row to Campbell.
Archers and Borelli Investment Company have tapped local architectural firm, AAI, to reimagine the office center and creative an attractive, efficient environment that will serve the needs of the community. The footprint of the two buildings should remain largely the same. Currently, Comerica Bank and Pacific Oaks Colleges are the major tenants in the office complex.
"Our Westside community is greatly in need of upgraded Class B office space," said Buddy Parsons, president of Borelli Investment Company. "The rebranding of Golden Pacific Office Center is now underway. The office complex is halfway between Santana Row and downtown Campbell. We anticipate attracting tenants from both areas with our renovated smart buildings and our generous 8/1,000 parking ratio."
Affordable spaces are available now beginning at approximately 475 sq. ft. The location is close to restaurants and retail services on Winchester Blvd. and in Santana Row and Westfield Valley Fair, which are minutes away. The complex also offers quicker commutes for employees with ready access to I-280 and I-880. For more information, contact Borelli Investment Company at (408) 453-4700.
#          #          #
About Archers Capital
Archers Capital is a San Jose, California-based real estate investment firm that invests, develops and manages both commercial and residential properties. Focused on the greater San Jose Bay Area, Archers manages investments and creates value in renovating and repositioning existing buildings and ground-up development. For more information, please visit www.archerscapital.com.
About Borelli Investment Company
Borelli Investment Company is a San Jose, California-based real estate services firm that has provided property management, leasing and development services to the Silicon Valley and beyond for over 60 years. Every member at Borelli brings a professional approach to help owners and investors achieve their goals. For more information, please visit www.borelli.com.