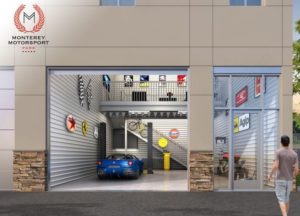 MONTEREY, Calif., Dec 6, 2017 – Garage Unlimited of Monterey — a private, gated specialty garage-condo facility located in the Ryan Ranch area of Monterey — has sold out. The unique community for car collectors and motorsports enthusiasts consists of 46 car and storage condos with from 744 sq. ft. to 2,701 sq. ft. of space. Construction at the car community just wrapped up in April. But with a substantial number of units presold prior to the opening, the remainder of the garage-condos sold out in less than seven months.
"Monterey has always had a special fondness for the automobile," said Ralph N. Borelli, chairman of Borelli Investment Company, one of Garage Unlimited of Monterey's co-developers. "With the natural beauty of the area and all the events surrounding Monterey Car Week each August — such as The Quail: A Motorsports Gathering, the Pebble Beach Concours d'Elegance collector car competition and races at Mazda Raceway Laguna Seca — the Monterey Peninsula is a unique place to drive or show off your favorite cars. This created significant demand for specialty garage space among both local residents and those who regularly visit the area."
Garage Unlimited of Monterey was envisioned as more than a collection of the cold, dusty units that one finds at most storage facilities. The garage-condos at Garage Unlimited feature soaring ceilings that rise up to 25 feet, leaving room for spacious mezzanines that rise approximately high above the garage floor. Most owners are customizing these mezzanines into either personal offices or leisure retreats with TVs and other amenities. This has helped to create Garage Unlimited of Monterey as a true car community where owners will gather to watch televised races, work on their cars together or hang with friends.
Read the full story at The Registry: Garage Unlimited of Monterey Completes Sellout of Specialty Car Condos