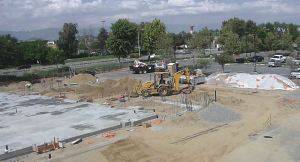 Borelli Investment Company has announced that ground has been broken on a $5 million, 7,500 sq. ft., single-building development that will provide space for a handful of restaurants adjacent to the Hilton Garden Inn at 10543 Sierra Avenue in Fontana. Borelli — which worked closely with the Sierra Hotel Group, LLC to develop the four-story, 115-room Hilton Garden Inn that opened in April 2009 — was able to get the multi-tenant retail-restaurant building underway after an exceptionally complex, multi-year effort to identify the right type of development, obtain the necessary approvals and building permits, and secure the financing needed to begin construction.
Borelli has already signed leases with two restaurant franchises for the new building —  Chipotle Mexican Grill and Jersey Mike's Subs — with space for two more food tenants such as fast-casual pizza, ice cream or yogurt. The new restaurants will serve business and leisure travelers staying at the Hilton Garden Inn or working in the immediate area, and will complement the hotel's in-house casual dining establishment, the Great American Grill.
Ideal Location in Fast-Growing Area
The site is an ideal, high-profile location in fast-growing Fontana, a city in San Bernardino County, east of Los Angeles. Between 2000 and 2010, Fontana grew approximately 50% to slightly less than 200,000 residents. Nearly 1,000,000 people reside within a 10-mile radius of the hotel and planned restaurants, and more than 210,000 cars daily travel past the Sierra Avenue exit on nearby I-10.
The restaurants will also be just down the street from several major employers in the area including Kaiser Permanente and Target.  Another busy Interstate freeway, I-15, is less than five minutes away by car and Ontario International Airport is about a ten-minute drive. In addition, the hotel and restaurants will be in close proximity to the popular Auto Club Speedway — the largest dedicated "super" speedway in California — as well as to the Citizens Business Bank Arena, home to ECHL ice hockey, other sporting events and concerts.
Attractive, Modern Design
The multi-tenant restaurant building features an attractive, modern design that will be consistent with the Spanish-style architecture of the Hilton Garden Inn, just across the parking lot. Diners as well as hotel guests will find ample parking in the spacious lot for easy access.
The contractor on the new building is Santa Ana-based Moorefield Construction, a company with a 55-year history of building all types of retail and commercial projects in 13 states throughout the West, Southwest, and the nation's heartland. The building is expected to open in the first quarter of 2015. A webcam showing the progress of the construction may be viewed at http://www.truelook.com/clients/siliconx-fontana/.
Interested restaurants or brokers should contact Tony Archer of Voit Real Estate at 909.545.8014, or email tarcher@voitco.com.
For additional information about the Fontana restaurant development or other development projects, property management or commercial real estate brokerage services, or other commercial real estate services available through Borelli Investment Company, please contact Tom Purtell at (408) 453-4700, or email tom@borelli.com.