Blast 825 Pizza
— an expanding chain of restaurants capitalizing on the hot trend toward quick-fire, custom pizzas that are ready to eat in three minutes — has leased 2,800 sq. ft. of space at Saich Way Station in Cupertino, for its first Bay Area location.
Developed by Borelli Investment Company, the $10.4 million, 15,600 sq. ft. Saich Way Center is now under construction across Saich Way from the Cupertino Target store and just down Stevens Creek Boulevard from Whole Foods Market. In addition to Blast Pizza, lease signees include anchor Vitamin Shoppe, a health and wellness store with more than 600 locations. The shell for Saich Way Center in Cupertino will be completed in January 2015, with Blast Pizza and other announced tenants expected to open their doors in quick order in the first quarter.
Cupertino represents an ideal market for Blast Pizza. The community offers highly desirable demographics, with more than 70% of Cupertino residents having earned a college degree and average household incomes above $135,000. Equally important, Cupertino is home to many technology companies led by Apple, whose employees are noted for their long work days — often fueled by pizza and other convenience foods available on a moment's notice.
Blast Pizza relies on super-hot ovens of 825 degrees to quick-fire pizzas that are custom-ordered as guests move through line. Diners can choose from Blast Pizza's 40 fresh toppings, 5 artisanal sauces and three hand-tossed doughs, with the pizzas ready to eat almost as soon as guests get their drinks. The Cupertino location of Blast Pizza will have seating for between 75 and 80 guests inside or on the restaurant's outdoor patio.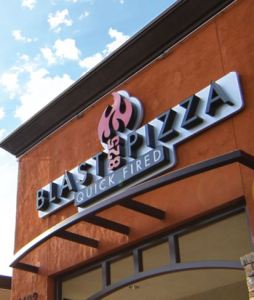 Five or six shops remain available for lease — depending upon the square footage requirements of each tenant — in sizes ranging from 840 sq. ft. to 3,200 sq. ft. With a retail vacancy rate of less than 3%, the available space is expected to be locked up quickly. All of the shops will enjoy exposure to the steady traffic attracted by the Target store directly across Saich Way, as well as by the approximately 31,000 vehicles that travel up and down Stevens Creek Boulevard daily.
The shopping center has been designed with pedestrians and bicyclists in mind, with broad walkways, a shaded outdoor sitting area, bicycle racks, and orchard-sized shade trees. Ample parking will also be available at the door.
SiliconX Construction is the project's general contractor. Heritage Bank supplied the $6.4 million construction loan that was required to proceed. The architect is FCGA Architecture. HMH Engineers is overseeing all civil engineering needs. Interested retailers should contact Randol Mackley, senior vice president of SRS Real Estate Partners, at (408) 216-2316, or email randol.mackley@srsre.com.
For additional information about Saich Way Center, please contact Larry Bengiveno, vice president of Borelli Investment Company, at (408) 453-4700, or email larry@borelli.com.