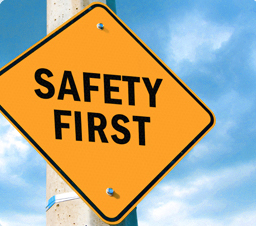 Property or apartment managers have a liability to sustain their property keeping it safe for tenants and their guest. That said, now is the perfect time to review your safety procedures, insurance, and inspect the property for hazards. What do I mean by internal safety procedures? These are written policies for the staff to follow designed to maintain the safety, for instance; a set time to lock the pool gate, maintaining a current CPR certification, and so on. Now, study your liability insurance policy; is there adequate coverage in the event someone is injured? How about flood and wind insurance? The time to update or improve any insurance coverage is now, before the event.
To be very proactive, patrol the property at least every month, recording where you went, and enhancements or repairs made. Keep in mind, substantial rain or cold winter weather can cause cracks in paved surfaces. Did you know that even a 1/4″ difference can cause somebody to trip and fall? If you do find a problem, spray around the area with orange paint until the repairs can be made, and be sure to photograph the efforts you have maid to warn residents. Look for fallen tree limbs or one that is damaged and may break off at any time. Falling limbs can cause serious injury to people or property. For those who live in regions endowed with ice and snow, keep enough salt on hand to put on every slippery surface and keep sidewalks shoveled constantly. Have a quantity of "Slippery when wet" signs. It is a good idea to have steps coated with a non-slippery surface.
If you regularly leave before dark, plan to stay late one evening a month to inspect the outside lighting; look for burned out light bulbs that make the parking lot, sidewalk or stairway dark and hazardous. While you are checking lights, make sure all EXIT signs are lit and clearly visible.
Time, weather, and common wear may have caused the orange paint marking the edge of steps or curbs, to fade and become subtly unnoticeable. Keep a can of orange spray paint in your maintenance area so your maintenance man can correct the faded orange to bright and clearly visible color and luminosity.
Having safe property comes down to being equipped and staying on top of repairs, not only will these steps keep residents safe but will make your property more appealing to prospective tenants. For help managing your property, give Borelli a call! We know all of the best practices and procedures to maintain a safe and secure property for all residents.