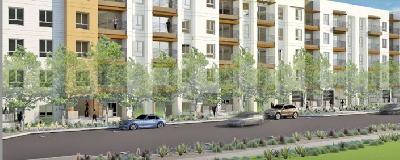 Location:
33950 7th Street
Union City
Type:
For Sale
Square Feet:
54000
Date Available:
Available Now
Price ($):
7500000
Buildout:
Borelli Investment Company is pleased to exclusively present the opportunity to acquire a 1.24 acre affordable housing development site located within the Station East development in Union City. Station East is located in the core Bay Area within easy commute distance to Silicon Valley as well as the leading tech and social media companies on the San Francisco Peninsula such as Facebook and Google. Station East is also adjacent to the Union City BART station. This gives residents direct commuter access to San Francisco and Oakland employment centers. BART is also extending its service to San Jose. There are ample retail services within a short walk of the community. Station East is designed to provide residents with the convenience of a short commute plus all the benefits of a master-planned community setting, which will feature walking trails, parks, and neighborhood serving retail. The 25 acre development will include 964 total units consisting of apartments, condos, townhomes and affordable housing.
Contact:
Ralph Borelli and Chris Anderson
408-453-4700
Access:
Call Ralph or Chris
Download a Brochure
To view the brochure, you must have Adobe Acrobat Reader. Click on the Adobe icon to download it free.