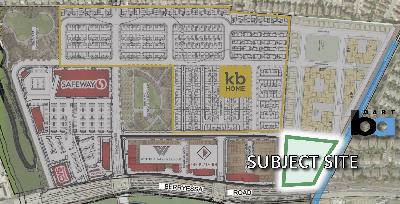 Buildout:
Opportunity to acquire the southern 2.23 acre commercial development site within the Facchino District of the Berryessa BART Urban Village plan. Potential development includes office or assisted living. The planned capacity for the greater Facchino District is up to 820 residential units and up to 464,000 SF of commercial.
Comments:
Adjacent to the transit-oriented development called Market Park which includes a 101,000 SF Safeway and CVS anchored retail center, 1,000 existing and up to 3,450 future residential units, up to 3.5M SF of commercial space, and community p
Contact:
Ralph Borelli
408-453-4700
Access:
Call Ralph
Download a Brochure
To view the brochure, you must have Adobe Acrobat Reader. Click on the Adobe icon to download it free.


Location:
1655 Berryessa Road
San Jose
Type:
Land
Square Feet:
97125
Date Available:
Available Now